Washington DC, the nation's capital and one of the cities with the most young professionals. Whether you are looking for a way to unwind after work or on the weekends, or you're a visitor who wants to let loose after all the daytime tourist activities, DC has a variety of nightlife attractions that will meet your needs. Whatever your jam, DC's got you covered, and this list will help you dial up just the right place for a high-energy, ultra-fun night out with friends on the town. The city is also known for having the best gender ratios in clubs, .9:1 of men to women, making it one of the hottest places to meet someone new and party.
Echostage
Renowned as one of the best EDM venues in the world
Launched in 2012, Echostage is DC's largest nightlife concert venue. The massive 30,000 square feet space comes with a cutting-edge, German-imported D&B Audiotechnik V series sound system, advanced LED visual displays, and interior design that ensures unobstructed sight lines from any seat in the house. The sensory experience of an Echostage event distinguishes the space from other DC entertainment players. Guests can grab a close-up glimpse of the stage from the photo pit or take a breather at two 60-foot long bars that line each side of the dance floor. Visitors looking to enjoy the show from up high can cozy up to seven of their closest friends in one of the 30 bottle service tables on the VIP Mezzanine. The unique and versatile space of Echostage has also had the pleasure of having famous artists like David Guetta, Calvin Harris, Avicii, Armin van Buuren, Hardwell and Tiesto play at the venue. At Echostage you know that you are going to get the best 21+ concert experience in DC.
Decades
6 floors and 8 bars encompass this huge nightclub
A retro-themed bar that celebrates popular music from different decades (starting from the 1980s to present day), Decades is located in the heart of DC. The 15,000 square feet space is massive with 6 different levels, 8 large bars, and a rooftop that can be retracted or fully enclosed. There are 5 DJs on deck at all times who are always hard at work livening up the place with music blaring from the Funktion One sound system. At Decades, guests will be able to enjoy the history of club culture as they take in the club's vintage inspired décor which features graffiti, gadgets, gears and everything we love about the energy and excitement of nightlife, music of all genres, and the past. There are a variety of different VIP experiences available for those who wish to have a more exclusive experience.
Opera Ultra Lounge
A vibrant and energetic venue with a state-of-the-art sound system
Opera Ultra Lounge is a unique lounge providing a posh and elegant atmosphere, professional staff, and superior service. Designed by renowned nightlife designer Francois Frossard, the lounge aims at creating cutting-edge multi-faceted entertainment venue for their guests that utilizes the latest technology to provide their patrons with premier service, design, and experience. With their sights on industry leading talent, celebrities and guests, they have created a one of a kind venue with a state-of-the-art Funktion One sound system from BAHA Design Group and lighting by acclaimed designer Michael Meacham of iDesign. At Opera Ultra Lounge, they break the standard mold of DC nightclubs by offering a full entertainment schedule, including both club-driven DJ bookings and live entertainment from Jazz bands to acoustic performances.
Rosebar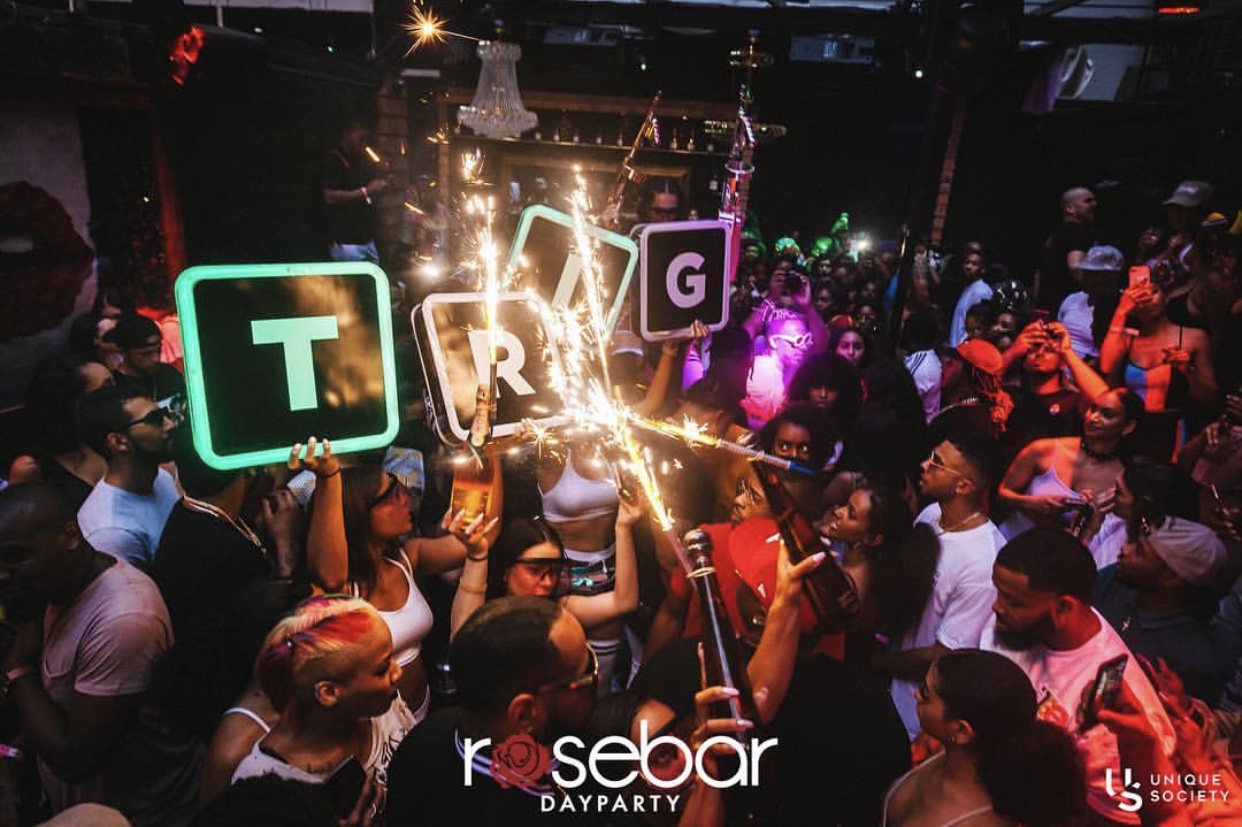 Great drinks and a even better time can be found here
Established in 2014, the opportunities are limitless at Rose Bar Lounge, located in Dupont Circle in DC. Rose Bar offers a sophisticated combination of fine dining with a sleek lounge atmosphere. The lounge is a popular destination for locals during happy hour and a trendy hotspot for after dark dancing and relaxing. The venue has taken the liberty to create an exciting atmosphere, where the best drinks and an inspired decor create a feeling of infinite possibilities. A fine restaurant and lounge during the evening that transforms into a nightclub on weekends, your night is what you make of it and you are free to live out the exhilarating and wild experiences that you are sure to be telling stories about for months. Feel free to enjoy some of the city's best sushi and nightlife vibes at Rose Bar today.
Bliss
A massive dance floor for those who like to be in the action
Bliss is an elegant, luxurious, cutting-edge, stylish and hip lounge in Washington, D.C. Warehouse District. The club's dynamic lighting, stellar sound system, and celebrity clientele make it one of the top venues in the city. It's refined décor with warm wood walls, candle-lit nooks, and plush seating fuse together to create the perfect place for a sophisticated night of lounging and dancing. Guests will be able to enjoy live music, concerts, and a variety of nightlife events at Bliss.
The Gryphon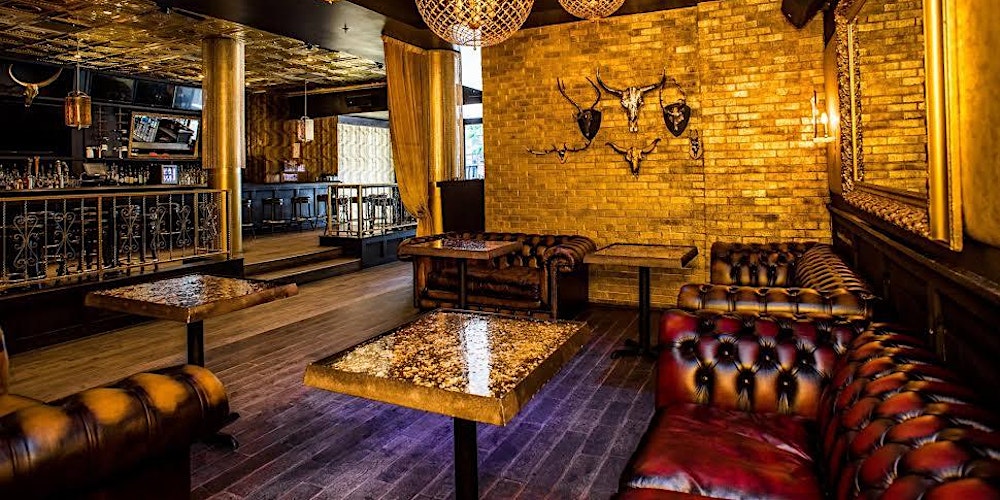 Upscale decor and a great food makes for a perfect dinner party
The Gryphon considers itself to be the new concept event house in DC. At this premier social house, guests are encouraged to socialize through eating and drinking, while the venue provides a lively, energetic and fun atmosphere. Its goal is to make guests feel as if they have been invited to a well-planned neighborhood dinner party with close friends and family. The Gryphon considers itself an all-in-one destination, perfect for any and every occasion. At this venue, patrons can enjoy an excellent brunch menu during the day while at night the Gryphon is transformed to one of DC's hottest high-energy nightclubs with loud pounding music and an extensive drinks menu.
St. Yves
A great spot for mingling and meeting new people
Perhaps one of the most opulent and gorgeous clubs in DC, St. Yves spared no cost when it came to its stunning design and décor. Inside the 2 floored club, guests will be unable to draw their eyes away from all of the beautiful fixtures including a quartz topped main bar, a massive golden chandelier, and a stately dramatic grand staircase located at the center. At St. Yves, the design team has taken exceeding amounts of effort to ensure that the historical beauty of the building remained even after the remodel into a nightclub. Guests can enjoy themselves at the bar, the main dance floor, or within the plentiful VIP booths in this sleek and stylish dual room lounge. The open floor plan is great for mingling and meeting new people. With 18 VIP tables to offer, there is plenty of space to go around. The DJ selection at the club is always stellar and there is not only bottle service but caviar service as well. They also have USB charging stations and coat/bag storage under the table seating.
Elevate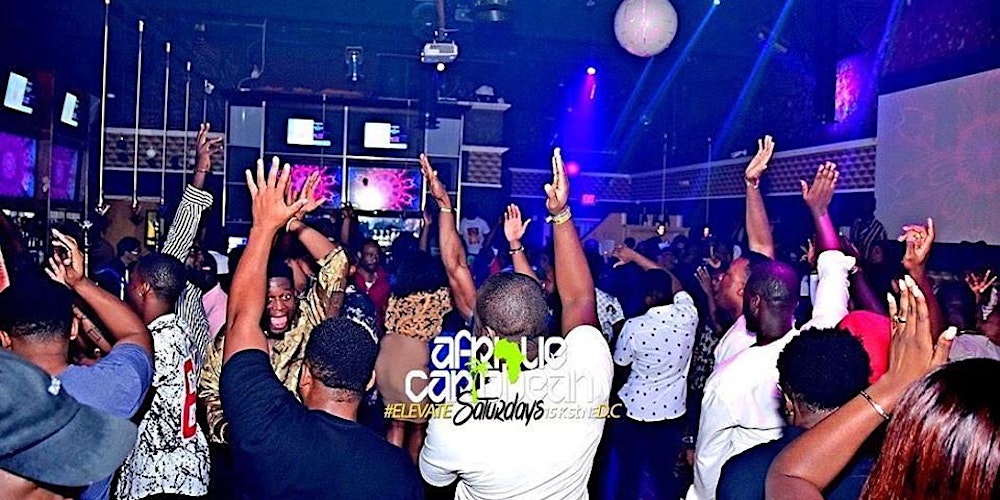 This place knows how to get the party started
Elevate brings a dynamic to the club scene very rarely experienced by your average nightlife enthusiast. All three levels of the aptly named club Elevate are structured in a way to create a theater type of atmosphere. The extra care that the venue took with its appearance and ambiance is visible when you step in and notice the superior lighting and sound system as well as the design. There are plush and comfortable sofas for seating and guests can enjoy drinks and food from a full bar and delicious kitchen. Though Elevate is known as an Afro-Caribbean influenced club, DJs also play the latest hip-hop tracks in between dancehall and afrobeats. Perfect for live entertainment and measure events, Elevate makes sure that their patrons are comfortable and enjoying themselves at all times.
Heist
A dark and intimate space with gold tones and a crazy fun crowd
Located in the midst of DC's Dupont Circle, Heist is a caper-theme champagne lounge and private event subterranean venue. The elegantly intimate nightclub is considered to be one of the city's most glamorous venues. When guests walk through bullhorn doors and down the stairs, they'll discover a darkened, intimate space featuring black and gold accents. It is quite evident that Heist spared no expense when it came to their decor which includes gold-plated fixtures in the restrooms, a Swarovski crystal ceiling piece above the bar, and a bullet hole lined installation that make up the back wall of the venue. The lounge is split up into a bar area and a dance floor section near the DJ booth. The venue offers both a variety of bottle service options as well as cocktails crafted by Heist's expert mixologists. Guests are able to get VIP booths as well with the most exclusive one of them being invitation only and located right next to the club's co-owner Charles "DJ Dirty Hands" Koch's crown jewel: the luxurious DJ booth which features a large 24-karat gold buffalo skull.
Ultrabar
With plently of floors, bars, DJ booths, and tables, there is not shortage of fun
Previously a bank during the early 1900s, 911 F St NW has been the home of Ultrabar since 2006, DC's number 1 and longest running party venue. The place is one of the most unique and versatile nightclubs in DC and features 5 distinct levels that are rich in color, ambiance and musical styles which have separate event options that allow the guests to enjoy a variety of entertainment. The modern LED lighting, stainless steel, and glass accents create an upscale and inviting atmosphere for its guests. With its state-of-the-art light and sound, four DJ booths and connected dance floors, six full-service bars and amazing drink specials, Ultrabar is a go-to destination for those wishing to experience the ultimate DC clubbing and nightlife experience. At Ultrabar, guests will be able to enjoy bottle service at all of its tables if they desire.
---
Washington DC Nightclubs FAQ
What time do DC Nightclubs typically open?
The nightclubs open around 9-10 PM.
What time do DC Nightclubs typically close?
Most close at 2 AM.
What is the dress code like at DC Nightclubs?
Guys can wear nice jeans and a form fitting plain t-shirt or a nice button down shirt. Girls can wear jeans or a comfortable but stylish dress if they prefer. Of course guys and girls can never go wrong with dressing up even more – there is no such thing as overdressing when it comes to nightclubs.
How can I book bottle service for DC Nightclubs?
You can book table service using our free mobile app. Or, if you're on desktop you can use our webapp.
How much is bottle service at DC Nightclubs?
Table minimums can get pretty expensive, but every venue is different. The best way to find out is to use our app.
What are the hottest clubs in Washington DC?
The hottest clubs in DC are Opera Ultra Lounge, Echostage, Rosebar, Decades, and St Yves.
What part of Washington DC has the best nightlife?
Dupont Circle, U Street, H Street, and Capital Hill have the best nightlife – clubs & bars in Washington DC.
What time is last call in Washington DC?
Liquor can be served by a licensed business from 8 a.m. to 2 a.m. on Monday – Thursday, from 8 a.m. to 3 a.m. on Friday and Saturday and 10 a.m. – 2 a.m. on Sundays. The day before a federal holiday, alcohol may be served from 8 a.m. – 3 a.m. On January 1 (New Year's Eve), liquor may be served from 8 a.m. – 4 a.m.
What are the best EDM clubs in Washington DC?
The best EDM clubs in Washington DC include Echostage, Flash, U Street Music Hall, and Sax.
What are the best hip hop clubs in Washington DC?
The best hip hop clubs in Washington DC include: Abigail, Heist, Opera Ultra Lounge, St Yves, The Park at 14th, Elevate, and Rosebar.
The post Top 10 Best Nightclubs in Washington DC in 2021 appeared first on Discotech – The #1 Nightlife App.